USING COLOURS TO CREATE THE VIBES YOU DESIRE AT HOME
Playing with colours to bring out the personality of the home and allow our homeowners' personality to shine through are one of those things that we do in our interior design process.  After deciding on the layout of the home, we will focus on the colour schemes with our homeowners to set the tone of the home and subsequent furnishing. 
The colour scheme is an arrangement or combination of colours. In deciding the colour scheme, we are able to set the mood of the house, giving it a more cohesive look and adding visual interest. We choose colours based on the preferences and personalities of our homeowners. Thereafter, we make use of colour theory to make sure the colours blend together well. 
Colour also has the ability to evoke emotions and change the mood of people. Warm colours such as orange give off a more heartwarming feeling whereas cooler tones like blue give off a more relaxed and cosy look. 
In the example below, we used the same home layout and played around with the colour scheme to completely transform the space.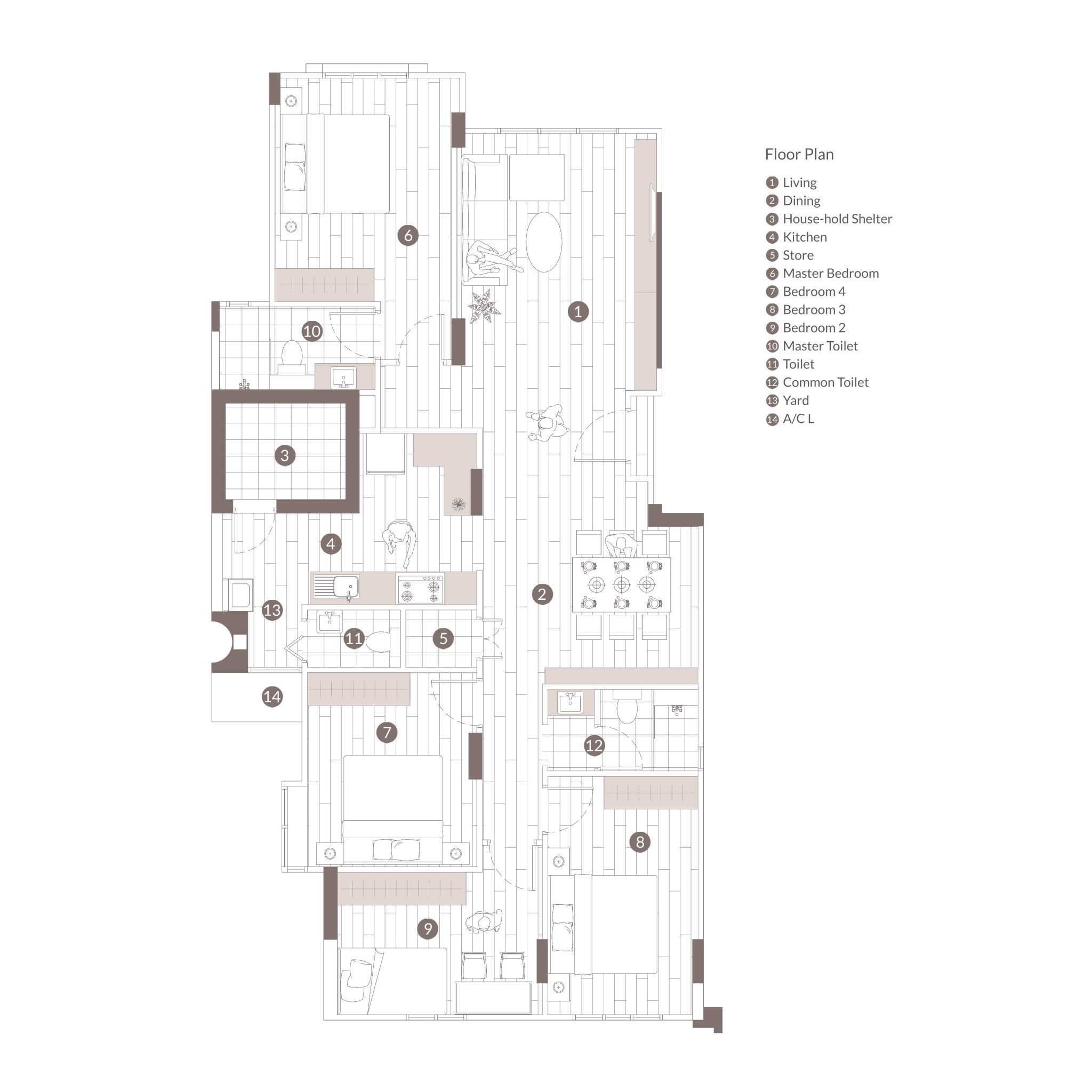 Given the same layout, two separate colour schemes was given to this home based on the desired design theme.  (Have fun with the white slider to see the difference!)
2. Over at the living room.
4. In the master bedroom.
Get minimalist home inspo and renovation tips from us. Be in the know with our latest happenings.
At The Minimalist Society, we take pride in crafting several minimalist interior designs concepts, notably in the area of Muji-inspired, modern scandinavian, nordic scandinavian, modern minimalist and Kinfolk-inspired styles. While each theme still retains the minimalist look, the various colour scheme will result in a different vibe for our home owners. Showcased below are the actual final outcomes of these different minimalist concepts that we specialize in.
Isn't it amazing how just changing the colour scheme of a space could completely transform it? Even though it could be intimidating for first-time homeowners to decide on the colour scheme on their space, don't be afraid to experiment and bring in small pops of colours in your space!
Like us on Facebook to see our latest portfolio.
---
The Minimalist Society is a brand that focuses deeply on purpose and social good for our society at large. We do so by crafting experiences that makes people's lives simple through interior design. We have been featured extensively by renowned online portals, in print and on screen, such as The Straits Times, Business Insider, Lianhe Zaobao, The Business Times, Singapore Home and Decor, Lookbox Living, Houzz, Cromly, Qanvast, Vulcan Post, Yahoo and MM2 Entertainment Singapore. At Team Minimalist, simplicity is a goal, a work style, and a measuring stick. By leading a life of purpose, our home owners can embrace only on the things that will add to the mission of significance and ultimately living their best story.
---