The Simple And Serene Life
Meet the Homeowner:
Joyce
Occupation: Bank manager
Interests: Traveling and reading
Here's a look at her minimalist home:
Type of property: 3-bedroom condo
Location: The Bencoolen
Renovation budget: About $40,000
Total space: 958 sqf
Years/months lived in: 7 years
For homeowners Bruno and Shufen, their Japanese minimalist home provides them with a cosy space to recharge after a long day (and also for them to pretend that they are in an aesthetic cafe!).
In this interview, the couple shares with us the impact that minimalism has had on their lifestyle, what makes their minimalist home uniquely theirs, and how The Minimalist Society has helped them with the process.
Tell us more about yourself:
Introvert and independent. Enjoys travelling, especially "off the beaten track" location, to understand different cultures and experience the lifestyles. Love nature a lot. Try to go for one hiking trip every 2-3 years. Nature to me is the best therapy. It keeps me grounded so that I am less focus about "self" and see how "big" this world can be.
How have things changed since you have moved into your newly renovated place?
Things are more organised in the way I wanted. I was away in Hong Kong on a three year assignment and living alone overseas gave me an opportunity to organise my own apartment. Feeling at home is very important to me. Home is where the heart can rest and recover from all the cacophonies of the day. There is a need to mental rest and the space at home is very crucial for me.
What do you think about minimalism, and its growing influence on many people as design and lifestyle?
Minimalism is an attitude and a way of life. The concept has always been part of human civilization. Some of the world's greatest inventors and writers lived by the mantra of "Less is More" (which was by Robert Browning). Leonardo da Vinci said "Simplicity is the Ultimate Sophistication". You learn to keep what you need, and discard what is no longer relevant in your life. I think we can apply it anytime . It's really an art on how to not clutter your life and practice conscious thinking before acting.
How would you describe the style of your home?
Simple, clean, bright, cozy yet welcoming.
What was your inspiration when you were setting up your home?
Inspired by the designs on pages of the Minimalist Society. It was a joy to see the pictures on the web.
" Minimalism is really an art on how to not clutter your life and practice conscious thinking before acting. "
What were some of the reasons you chose The Minimalist Society?
I like their bespoke and customized designs which speak to me. They provide clarity to me how the process would be like. And most importantly, they are a team who indeed listens and are focused on doing their job well.
Enumerate your favourite spaces and rooms at home, and kindly state what makes each of them special.
The living room would be for guests and needs to be open and airy. My work room is just nice for WFH with all the right lighting. Bedroom is really about a good slumber. And lastly, washroom are more therapeutic. It's my SPA at home. [Joyce chuckles]
Were there any challenges you encountered when you were setting up your home?
Not much actually. After locating the correct ID, the rest is actually routine.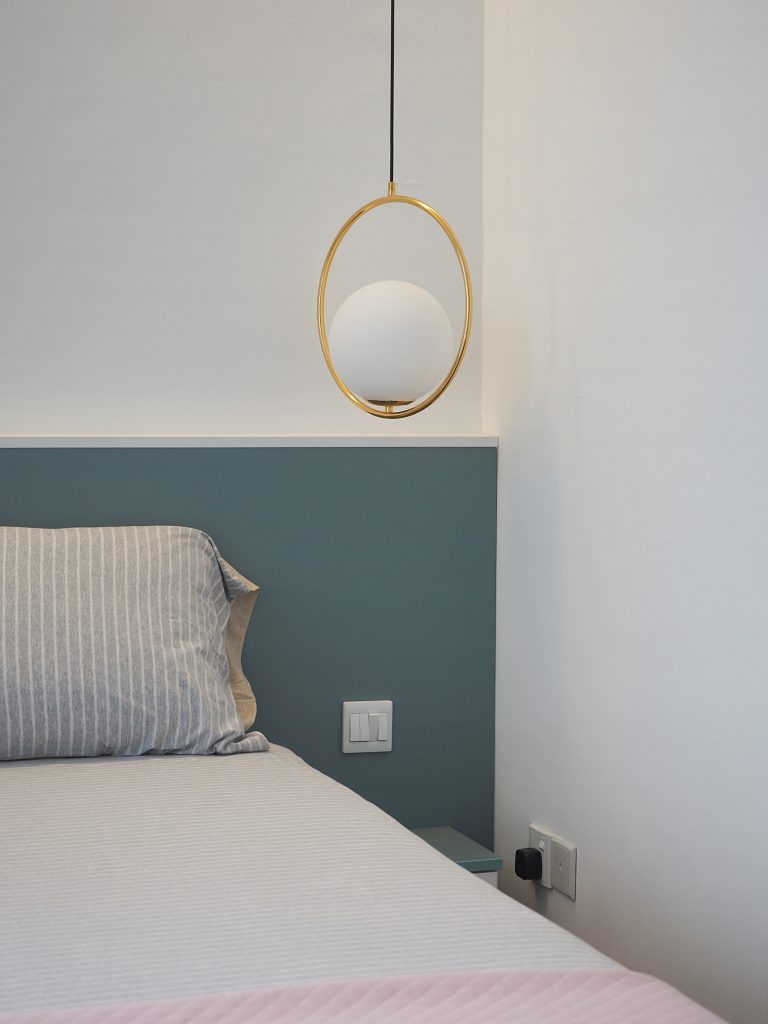 Get minimalist home inspo and renovation tips from us. Be in the know with our latest happenings.
What is/are your favourite decorative pieces/accents inside your home?
A plank of tile given to me by my ID's supplier when we went shopping for floor tiles. It is now a display piece in my room.
What are your favourite things to do around your home?
It's my home so anything I do around the home is always a joy.
What makes your house special?
It's simple. That's what makes it special to me.
How did the ID help make your dream home possible?
Everything from conceptualizing to planning to realization. Every step of the process ID help me along the way.
How was the overall experience for the renovation process?
Couldn't be more grateful.
Any renovation tips for our readers?
Have a concept in mind, listen to alternative views but choose decisively.
Minimalist Pursuits is a lifestyle section that takes an intimate look at our homeowners who live their lives to the fullest by practicing a minimalist lifestyle and finding joy in their spaces.
Like us on Facebook to see our latest portfolio.
---
The Minimalist Society is a brand that focuses deeply on purpose and social good for our society at large. We do so by crafting experiences that makes people's lives simple through interior design. We have been featured extensively by renowned online portals, in print and on screen, such as The Straits Times, Business Insider, Lianhe Zaobao, The Business Times, Singapore Home and Decor, Lookbox Living, Houzz, Cromly, Qanvast, Vulcan Post, Yahoo and MM2 Entertainment Singapore. At Team Minimalist, simplicity is a goal, a work style, and a measuring stick. By leading a life of purpose, our home owners can embrace only on the things that will add to the mission of significance and ultimately living their best story.
---