The Minimalist Experience
We are really glad to have engaged TMS for the renovation of our home! We had a rough idea how we wanted our home to be like - Minimalist with a touch of Scandinavian. TMS came up with the design based on what we wanted and together with their expertise made our dream home a reality. We were really busy at one point juggling between wedding preparations and the renovation works but TMS took care of the renovation works with minimal supervision. Regular updates were sent to us with photos on our renovation progress. Thank you TMS for making our dream home a reality!
It takes quite someone who really espouses the belief and value of minimalism for them to be able to execute a home of yours like it. Team Minimalist was the ones we entrusted the once daunting process too. We met many before them, trying to share the kind of home we wish to build but many failed to truly appreciate nor understand. We were glad that not only was our home kept to the minimalist principles, the process was also minimalist. I would say with TMS, you can be free to share your dream home but also be advised wisely on what's truly critical or necessary. Cheers to the start of our slow-home! #slowliving
Initially, we wanted to get a 3 quotes for our renovation. From referrals, we came across TMS and from our first consultation, we decided to look no further. TMS was professional and they were able to relate to our minimalism ideas and concepts for our place. Throughout the renovation, TMS provided timely updates and issues were resolved promptly. Kudos to the TMS team and thanks for doing up our little first nest @ D'Nest.
As my husband and I had already decided on a minimalist Japanese-themed home, we approached TMS directly as we are impressed with their portfolio and design. Being first-time home owners, there are a lot of unknowns in our quest to create our dream home. The Minimalist Society was very patient with our requests and gave us alot of suggestions for the designs and colour scheme which makes the overall process a breeze! TMS gave us advice and help us out with the timeline such as the deadline for purchasing and delivery of items for installation. The actual renovation process was also on schedule with minimal delays. The progress was faster than expected and soon we were standing in front of a beautifully renovated apartment. Thank you for all the time and effort all of you have put in!
We're very glad that we engaged TMS for our first home renovation. Although we already had an idea of how we wanted our home to be, their input, recommendations and expertise helped us turned our idea into reality. The quality of the carpentry workmanship and finishing is impeccable, and we are very happy with the end result. Thank you so much Team Minimalist!
A huge thank you to Team Minimalist for presenting and delivering such a lovely home to us. Our renovation process was a smooth one albeit some miscommunication happened, it was resolved quickly and things progressed as what we planned. We had a mutual understanding on our interior preference from the start and it certainly helped in expediting the process. Overall, we were happy to have engaged them.
Team Minimalist knows what we want for our minimalist theme house and the end result was better than what we would have expected. I would recommend them to anyone who loves the minimalist theme as they know what it is all about. Thanks to them for creating our dream home!
What you see is what you get. I wanted a Japanese design inspired home and TMS' aesthetics suited our needs. We are demanding customers but even where there were roadblocks along the way coordinating with workmen, at the end of the day Team Minimalist noted all our comments and any problems were eventually resolved.
TMS was the second ID we approached, and we didn't need to look further~ TMS was very approachable and we loved that they were listening closely to what we were looking for. Don't you just hate it when designers put in stuff that you specifically said you disliked or didn't want? No problems with TMS there! Carpentry work was very well done. The carpenters even spotted an issue with the existing cabinets (by developers) and initiated to repair it on their own accord. Also, TMS had also communicated the design scheme to the curtain guys whom in turn, came very prepared and were very prompt into advising us on the colours and materials that would suit. We had a little issue with the quality of the paintwork, but that was settled very promptly. No questions asked. The renovation work was complete ahead of schedule too! All in all, we had a great time working with TMS! Thank you guys so much for all the time and effort you have put in!
My wife and I are extremely blessed to have engaged TMS in our home renovations. After having heard several renovation horror stories from our peers who engaged other IDs, my wife and I were initially concerned that we would have similar experiences when renovating our first home together. As it turned out however, we had a very pleasant experience working with The Minimalist Society, and are grateful that we've even developed good friendships with both Keith and Yiling. Keith and Yiling have been professional and patient with us from the get-go, and were always willing to provide us with sound advice on how to proceed with our home renovations. They were also quick to respond to any queries we had, and were always accommodating to any changes we wanted to make to our home design during the renovation process. It was also easy for my wife and I to tell that they are honest and responsible people who take pride in their work, and are passionate about what they do; the quality of The Minimalist Society's carpentry-workmanship is also to be lauded. Thank you, Keith and Yiling, for letting us have such a pleasant renovation experience, and a beautifully designed home!
Heartfelt thanks to The Minimalist Society in creating our new home. They are patient, understanding and display professionalism and great passionate in their work, always ready to provide creative ideas and accommodate to our renovation needs. They have made the whole renovation process a fun and smooth sailing one for us. Really highly recommended!!!
TMS stood out amongst the list of IDs we met because of their strength in minimalist designs. We learnt a lot from The Minimalist Society in terms of creating spaces within our home. They were also dedicated in guiding us thru the material selection process. Most importantly, they were responsive via WhatsApp and were quick to respond when we needed to make alterations to the design. They constantly kept us updated of the progress and we had a relatively hands-free experience in managing the renovation. Thank you for doing this Homè project with us! We certainly felt your sincerity and hard work towards building our dream home!
To many, home renovation can be a daunting one with so many horror stories going on. Especially when the number of complaint cases against renovation companies are on the rise. Nevertheless, we were fortunate to engage The Minimalist Society. Trust were not built overnight, however, the Minimalist Society were clearly passionate and committed in their daily work. Their attention to details and response to messages/queries during unearthly hours won us over. At times of difficulty, they were also open to feedback and accommodated last minute changes - despite the additional trouble. With their assistance, we were able to build our dream home. =) Great work! The Minimalist Society!
After seeing their past projects by Minimalist society, we felt this was the right style for our new home. As we went for our first meet up they assured us with the quality of their workmanship. We enjoyed working with Minimalist Society. The selections of the design palette provided were made simplify for our choices yet there were rooms for customisation to our needs. We are very thankful to TMS for being understanding, patient and accommodative especially having a newborn with us thus making the reno process a fulfilling one. We encounter some technical problem with our hob that causes some issues to the carpentry. They were quick to respond to our needs after the handover. Thank you both being passionate in creating beautiful home!
We are thankful to have chosen to work with the Minimalist Society. Upon the first meeting with TMS, we knew we could entrust our home to them. They are passionate, creative, patient, honest and understanding. They have value for money contacts (e.g. window grilles, flooring, aircon, etc), which help young couples save, yet not compromising on quality. They took time to bring us to places that we could consider for furniture and lighting as well. Their guidance really helped us in our choices. In addition, they widened our perspective of our chosen country theme, that we could have something minimalist, yet with country tones and are practical. They gave the assurance that we do not need to be at the home every night to check if everything is ok, because they communicated well with the contractors and kept giving us the assurance that it is well taken care of. Their works are professionally done, and from it, we can tell the TMS really places high expectations on themselves to do a good work. They have also rectified all areas that we pointed out prior to the final handover. Highly recommended! 🙂
A genuine, passionate and competent team who takes pride in what they do and doing it wholeheartedly. Over the period of 4 months, Team Minimalist always aim to make the entire renovation process as painless as possible for us. They are reliable and responsive when it comes to managing their client's expectations. Really enjoyed bouncing ideas and we are appreciative of how communications can be surprisingly open with them. In TMS we trust.
We had the pleasure of working with TMS for our renovation - and couldn't be happier with everything. From the onset, TMS understood our requirements and preferred style, and not only added their valuable inputs, were also very hands-on when it came to the renovation. They both have excellent aesthetic taste, but could also advise on practicality and constraints. Finally, the workmanship of the carpenters was very good, and we had no issues with the quality of the deliverables. Thank you TMS for helping us design our dream cosy home!
Designing our dream house with Team Minimalist was a breeze. They were meticulous and design-centric, but at the same time offered practical advice as well. Rectification works were performed promptly as well. We wouldn't hesitate to recommend The Minimalist Society to our friends and family!
My hubby and I had a wonderful experience working with Keith and Yiling on the design and renovation of our new home. They were very helpful in the coordination of the different contractors for the various works. They also gave valuable input, i.e. in the choosing of furniture to match the colors, and were prompt in responding to the queries we have about the various works for our new home. Overall, my hubby and I are thankful in engaging The Minimalist Society as our interior designers.
The guys at minimalist society are very patient in explaining things that we don't understand to us. In addition, the carpentry workmanship is done well too! During the process of the renovation they provided good ideas and suggestions for our house. Overall very accommodating to our requests even though changes were made frequently. Recommended!
CONSOLIDATED RATINGS BY MINIMALIST OWNERS
Create you dream minimalist home with us today.
Houzz connects home owners and home professionals with the best tools, resources and authentic reviews.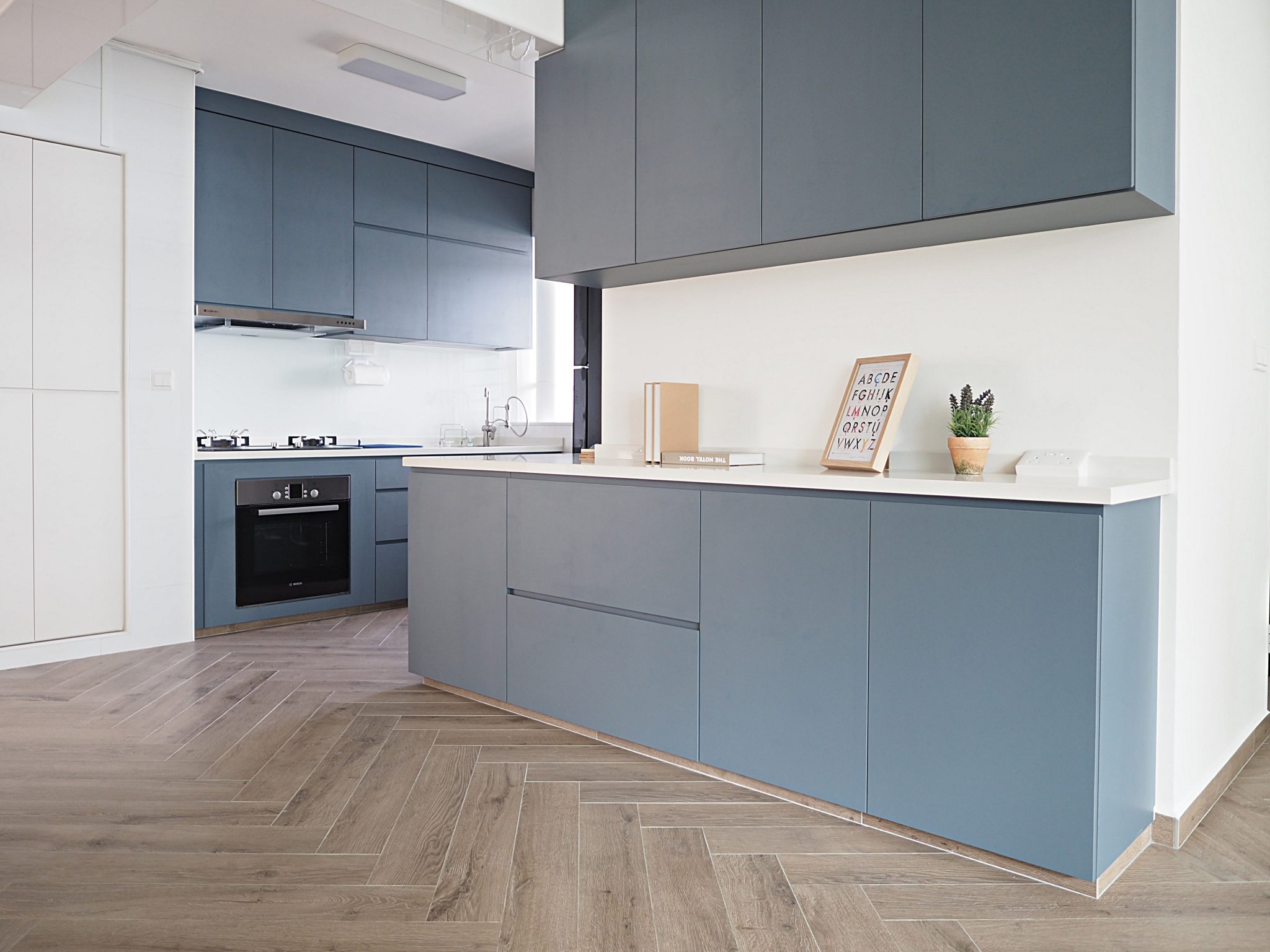 More reviews on Hometrust.sg
Hometrust is Singapore's trusted community review site for homeowners in hiring design firms in the renovation industry.