Styling A Scandinavian Sanctuary
Meet the Homeowner:
Jun Xian, 30
Occupation: Engineer
Interests: Reading, Keeping Fit
April, 28
Occupation: Marketing
Interests: Cooking, Watching Netflix
Here's a look at their minimalist home:
Type of property: 4 Room HDB
Location: Fernvale Woods
Renovation Budget:  $50,000
Total space: 1001 sqft
Years/months lived in: 3 months
There are two key factors that make for a pretty comfortable scandinavian home – the first is to have a calming colour palette and the second is to have cozy sitting corners that you can relax. While both of these factors are present in this 4-room apartment, this BTO home also feels especially roomy despite having ample storage solutions to avoid visual clutter.
Tell us more about yourselves?
We met 8 years ago while working at the same part-time job while studying. We are a homely couple who enjoy occupying our time with quiet hobbies and activities.
How have things changed since you moved into your new place?  
Since moving into our new home, we have started to cook more often. On weekends, we prefer to cook now instead of dining out. We enjoy exploring the supermarkets near our house and looking out for ingredients for recipes that we find interesting.
What do you think of minimalism, and its growing influence on many people as a design and lifestyle?
To us, minimalism is a way to build serenity into our lives. In this fast-paced world, having a calm space to return to at the end of the day allows us to wind down and put our worries aside.
How would you describe the style of your home?
Our house has a Scandinavian style, with clean lines and a soothing colour palette.
What was your inspiration when you were setting up your home?
We were inspired by the colour tones of Scandinavian-styled homes we saw online. We also wanted to fulfil our storage and lifestyle needs and yet avoid clutter, which led us to adapt some layout ideas with the assistance of the team at The Minimalist Society.
What were some of the reasons you chose The Minimalist Society?
We were impressed by the portfolio presented by The Minimalist Society, and felt that they were able to turn our inspiration into reality.
" Minimalism is a way to build serenity into our lives. In this fast-paced world, having a calm space to return to at the end of the day allows us to wind down and put our worries aside. "
Enumerate your favorite spaces and rooms at home, and kindly state what makes each of them special.
We enjoy spending time in our living room after a long day at work, catching up with each other after dinner and watching our favourite shows. It is special as it is the default hangout space for us.
Were there any challenges you encountered when you were setting up your home?
We initially expected our renovation to commence in Q3, but there were delays in our key collection. The Minimalist Society offered to bring forward the material selection process, so that we could commence renovation works immediately upon key collection.
What is/are your favorite furniture inside your home?
The built-in bay window settee is our favourite. Not only is it pleasing to the eye, it is also multi-functional, acting both as a storage space as well as a seating area for visitors.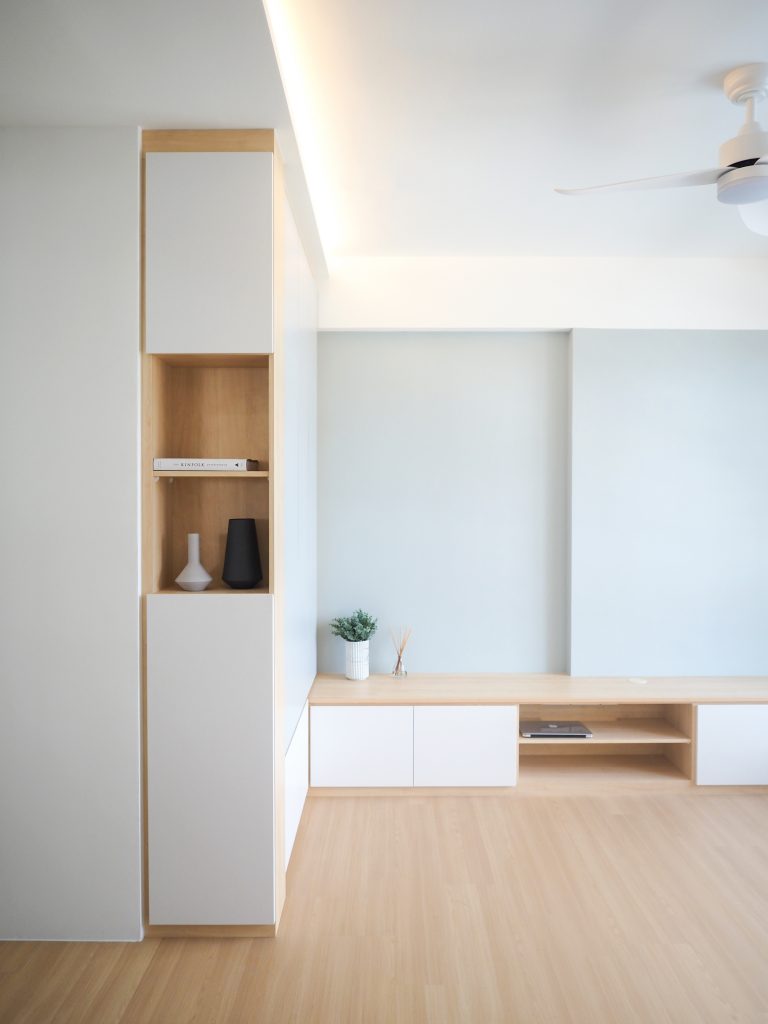 What is/are your favorite decorative pieces/accents inside your home?
We were impressed by the paint accent suggested by The Minimalist Society. Just by using paint, they were able to add character into an otherwise plain looking dining area.
What are your favorite things to do around your home? 
We enjoy hanging out in our living room, chatting with each other, watching our favourite shows and playing games on our console.
What makes your house special?
Our house is the result of putting our inspirations and needs together. It has become a reflection of us and our lifestyle.
Learn about the design thought process of this home on YouTube.
CATCH US ON YOUTUBE FOR MORE DESIGN TIPS AND INSPO. 
How did the ID help to make your dream home possible?
The Minimalist Society offered practical advice on building our home, space-planning and colour selection in order to bring our ideas to life.
How was the overall experience for the renovation process?
We had a positive renovation experience. The renovation process was well taken care off by The Minimalist Society, allowing us to focus on getting our house furnished according to what we like.
Any Renovation tips for our readers?
It helps to discuss and agree upon various layout and space planning ideas before engaging your interior designer, so that your discussion can be focused on ways to fulfil these ideas in your new home.
Minimalist Pursuits is a lifestyle section that takes an intimate look at our homeowners who live their lives to the fullest by practicing a minimalist lifestyle and finding joy in their spaces.
Like us on Facebook to see our latest portfolio.
---
The Minimalist Society is a brand that focuses deeply on purpose and social good for our society at large. We do so by crafting experiences that makes people's lives simple through interior design. We have been featured extensively by renowned online portals, in print and on screen, such as The Straits Times, Business Insider, Lianhe Zaobao, The Business Times, Singapore Home and Decor, Lookbox Living, Houzz, Cromly, Qanvast, Vulcan Post, Yahoo and MM2 Entertainment Singapore. At Team Minimalist, simplicity is a goal, a work style, and a measuring stick. By leading a life of purpose, our home owners can embrace only on the things that will add to the mission of significance and ultimately living their best story.
---