Meet the Couple:
Ivan, 34
Occupation: Senior IT Manager
Interests: Reading, jogging, and meditation
Fiona, 35
Occupation: Senior Relationship Manager
Interests: Jogging and traveling
Take a peek at their minimalist home:
Type of property: 3-bedroom condo
Location: Pasir Ris
Renovation budget: $50,000
Total space: 969 sqf
Years lived in: 1.5 years
Ivan and Fiona are both busybees "in demanding banking jobs." What they need after a long day at work is to come home to a clean and simple space and spend quality time with their darling daughter, three-year-old Tiffany. Luckily, their Scandinavian minimalist condo unit offers the respite they're looking for. Take a closer look at their abode located in the peaceful area of Pasir Ris.
Tell us more about yourselves.
We're Ivan and Fiona, and we have a 3-year-old daughter, Tiffany. Both of us work in demanding banking jobs. Luckily, for one of us, Ivan's office is just at Changi Business Park, which is about 3 MRT stops away. In our spare time, we try to go out on nature walks, as much as we can. Our favourites are Treetop Walk, Seletar Reservoir, and of course, Pasir Ris Park.
How did you get started on minimalism?
We got hooked with the Finnish way of life. This was after Ivan came back from his business trip in Finland during CNY. This can be sum up in 3 S.
First S. "Sisu," which is a Finnish word for grit, bravery and resilience. Something that the millennials need plenty of in this society.
Second S. "Sauna". Interesting fact: Finland has about the same population size of 5.5m people, and there are 3.3m saunas. Being part of a community in that smoky sauna is a way of life. Ivan tried it before, and he said it changed his life. Nothing seems fearful after that experience!
Third S. "Simple". That was the concept we wanted for our house. To have a minimalist design, nothing fancy, and it just works. At one time, we even wanted tatami for the floor but decided against it, as it was making it more complicated! We stuck with the original flooring and just had a simple paint on the wall.
How do you think minimalism could help your career and your life?
Minimalism takes away the unnecessary distraction we have in our life. To want to have more is what the society wants from us. However, we can do with less, and it makes life easier to manage. The awakening moment was when we were doing a big clean-up in our parents' house before we moved over, and that resulted in a lot of bags donated to the Salvation Army. Minimalism is best displayed in Japanese Zen temples, a personal favourite of Ivan, where minimalism is a way of life. It's all about making it simple and manageable.
What was your inspiration when you were setting up your home?
Mix and match of minimalism based on our own experience
What were some of the reasons you chose The Minimalist Society?
Ivan knew Keith from his university days and has been following his design firm, The Minimalist Society, after graduation. We did try to check in with some other IDs. We had spent one whole afternoon talking to 3 different IDs and no one came back to us (maybe because our concept was too simple?). Our deal with The Minimalist Society was closed on the spot after making an appointment with Team Minimalist at their showroom.
Enumerate your favourite spaces and rooms at home, and kindly state what makes each of them special.
We like the living room as it has a nice display (we invested in an OLED TV), together with the grey sofa and grey curtains that complement the whole setup.
Were there any challenges you encountered when you were setting up your home?
Initially, Ivan wanted to look at putting tatami for the rooms; however, it made the look too Japanese, not to mention the high cost of buying one.
" Minimalism takes away the unnecessary distraction we have in our life. To want to have more is what the society wants from us. However, we can do with less, and it makes life easier to manage. "
What is/are your favourite furniture pieces inside your home?
The custom cupboard by Minimalist Society at the entrance of the house. We like that there are sufficient space to keep all our shoes, a nice LED light for our decoration, and even a good storage area for our vacuum cleaner.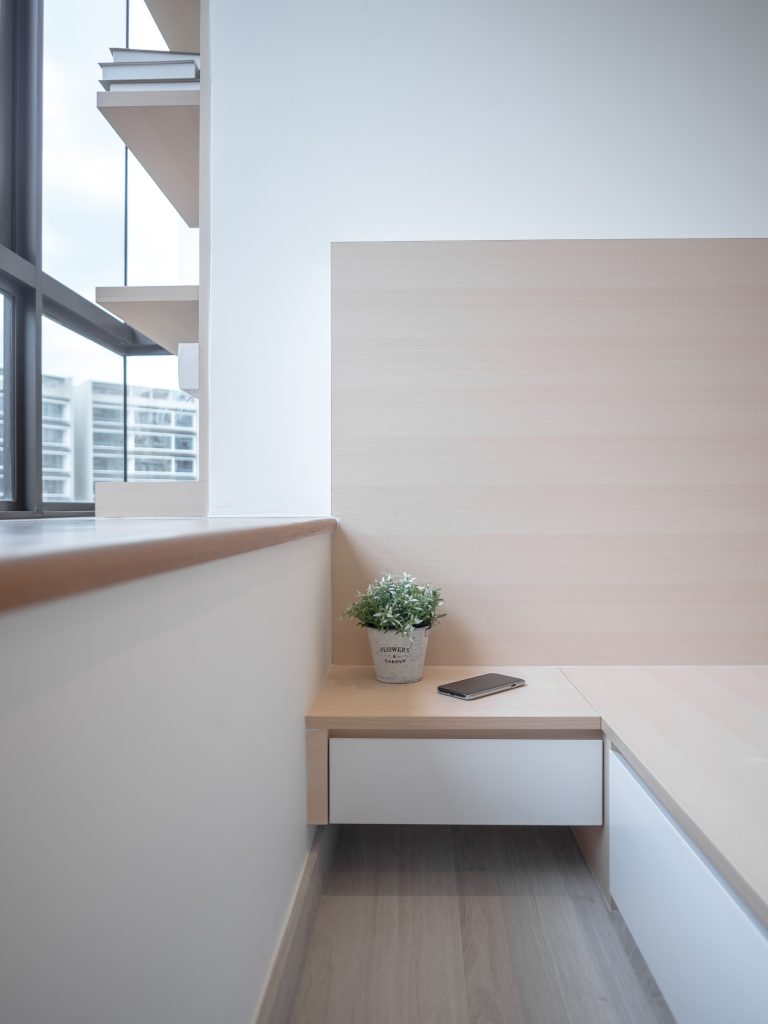 What is/are your favourite decorative pieces/accents inside your home?
This has got to be our family portrait family we took when Tiffany was 1 year old.
Where do you shop for furniture pieces and accessories within Singapore?
Cellini Furniture. Still cannot believe that I got the whole set of sofa, together with a proper set of coffee table, at $800. It was a steal!
What are the DIY projects that we can find inside your home?
We don't really have any DIY projects as we don't hang anything extra.
What are your favourite things to do around your home?
Chill, relax, and listen to the music. At times, we also watch Netflix in the living room.
What makes your house special?
We don't think it is that special but it is just the way we want it to be – simple and clean.
How did the ID help to make your dream home possible?
The Minimalist Society had past portfolios featuring custom furniture, which we took reference from. We were so lazy to think about it, so we just took the one we liked the best.
How was the overall experience for the renovation process?
Team Minimalist took great measures to supervise and ensure the quality of the house setup. They were quick to respond and share their expertise when required.
Any renovation tips for our readers?
Know what style you want. Next is to find a good ID that you find comfortable working with. Lastly, do have a budget and prepare to burst it (at least be prepared for it).
Minimalist Pursuits is a lifestyle section that takes an intimate look at our homeowners who live their lives to the fullest by practicing a minimalist lifestyle and finding joy in their spaces.
Like us on Facebook to see our latest portfolio.
---
The Minimalist Society is a brand that focuses deeply on purpose and social good for our society at large. We do so by crafting experiences that makes people's lives simple through interior design. We have been featured extensively by renowned online portals, in print and on screen, such as The Straits Times, Business Insider, Lianhe Zaobao, The Business Times, Singapore Home and Decor, Lookbox Living, Houzz, Cromly, Qanvast, Vulcan Post, Yahoo and MM2 Entertainment Singapore. At Team Minimalist, simplicity is a goal, a work style, and a measuring stick. By leading a life of purpose, our home owners can embrace only on the things that will add to the mission of significance and ultimately living their best story.
---