Meet the Homeowner:
Audrey, 35
Occupation: Chemist
Interests: Running and baking
Take a peek at their minimalist home:
Type of property: 2 + 1 Condo
Renovation budget: Approximately $42,000
Total space: 829 sqft


Audrey, who is a parent to twin boys, always dreamt of setting up a minimalist home amidst the piles of toys and books of her boys. That was when she sought the help of The Minimalist Society to make her dream home come true. In this interview, Audrey shares with us her experience of living in her 2+1 Scandinavian home, which is devoid of clutter and filled with only possessions that have a purpose.
How have things changed since you have moved into your new place?
Shifting to our new home kickstarted our decluttering journey. The compartmentalised platform storages and hidden cabinets have allowed us to store books and toys with ease.
How is parenting twins like?  
Double the fun! Having them grow up together at the same time allows us the energy to focus on almost similar needs and interest.
What do you think of minimalism, and its growing influence on many people as a design and lifestyle?
Minimalism can help us to have a life that has less clutter, gives us more much free time and focus on the things that matter to us more, resulting in the conscious curation of our lives.
What were some of the reasons you chose The Minimalist Society?
As their name exudes – clean and minimalist styles.
" Minimalism can help us to have a life that has less clutter, gives us much more free time and focus on the things that matter to us more, resulting in the conscious curation of our lives. "
Enumerate your favorite spaces and rooms at home, and kindly state what makes each of them special.
Our living and dining area. The clean slate of white and walnut colors never fails to wind me down after a day's work. After our kids go to bed, my husband and I would chill and unwind with some Billie Holiday on tunes.
Were there any challenges you encountered when you were setting up your home?
Having no storeroom and service yard. We wanted more storage spaces.
What is/are your favorite furniture inside your home?
Our kid's bunk bed! It brings out the inner child in us! We are always looking forward to reading a book or 2 with my kids there!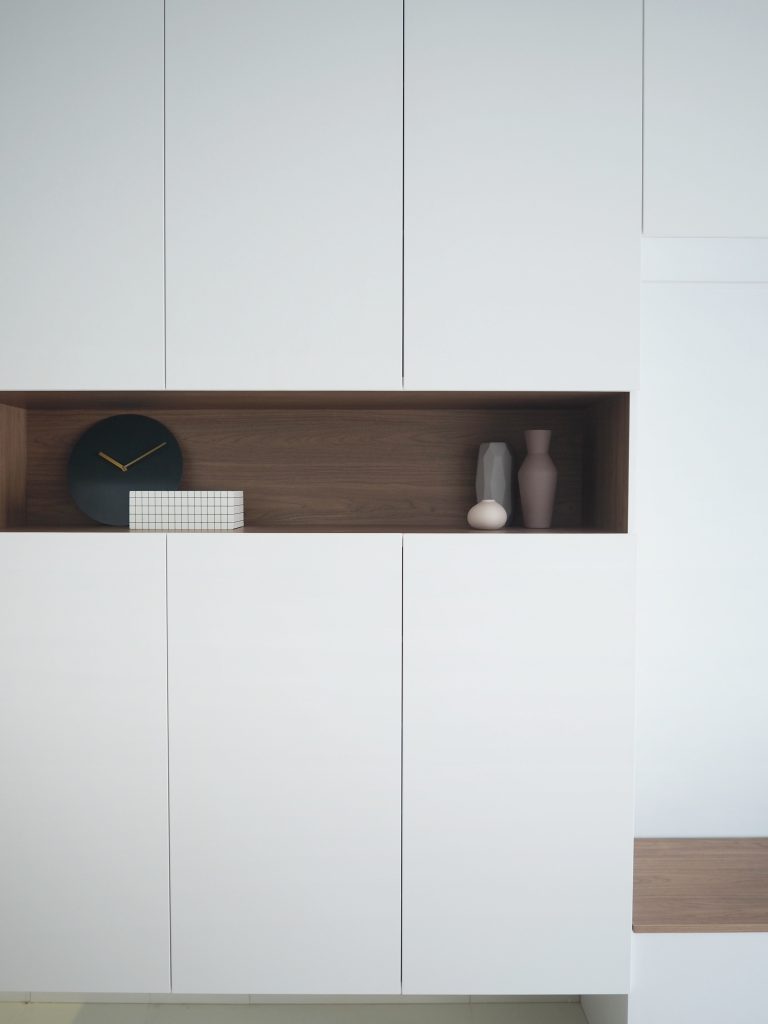 What is/are your favorite decorative pieces/accents inside your home?
We love our dining table! It fits our home perfectly. Its where we gather friends for dinners and games. Also the pop of terrazzo shelves for the boy's study!
Where do you shop for furniture pieces and accessories within Singapore?
Castlery and Ikea.
What are your favorite things to do around your home? 
Having meals at our dining area and having friends over for gatherings!
What makes your house special?
The hidden platform compartments that allow us to keep things that still sparks joy in our lives, e.g. photo albums and soft toys! While keeping our home neat and tidy!
How did the ID help to make your dream home possible?
TMS realized our minimalist dreams of having ample storage. Lesser hoarding, more joy! The simple idea of keeping things out of sight means that we could experience the freedom and stress-free life of living clutter-free.
How was the overall experience for the renovation process?
It was very satisfying seeing our dream home being pieced together by the TMS team. Team Minimalist made it very fuss-free as they knew exactly what we wanted. They were very transparent throughout the whole journey, in terms of costs and design expectations.
Any Renovation tips for our readers?
Find an ID that you feel comfortable with when relating your needs — one whom you don't have qualms sharing your ideas. Of course, most importantly, one that fits your budget.
Minimalist Pursuits is a lifestyle section that takes an intimate look at our homeowners who live their lives to the fullest by practicing a minimalist lifestyle and finding joy in their spaces.
Like us on Facebook to see our latest portfolio.
---
The Minimalist Society is a brand that focuses deeply on purpose and social good for our society at large. We do so by crafting experiences that makes people's lives simple through interior design. We have been featured extensively by renowned online portals, in print and on screen, such as The Straits Times, Business Insider, Lianhe Zaobao, The Business Times, Singapore Home and Decor, Lookbox Living, Houzz, Cromly, Qanvast, Vulcan Post, Yahoo and MM2 Entertainment Singapore. At Team Minimalist, simplicity is a goal, a work style, and a measuring stick. By leading a life of purpose, our home owners can embrace only on the things that will add to the mission of significance and ultimately living their best story.
---