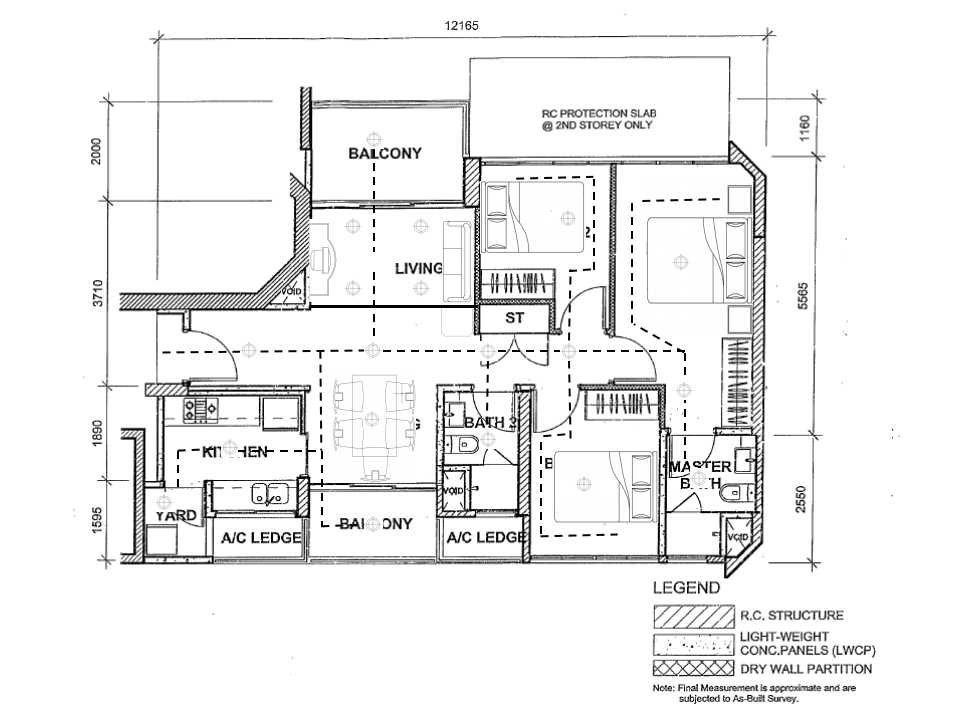 How to create a Space Plan
The Bubble Plan
The best way we like to start a space plan is by roughly drawing out a map of the space and creating a bubble plan. A bubble plan is a simple diagram that consists of roughly drawn bubbles (representing spaces) connected by solid lines, broken lines or wavy lines etc to specify the type of relationship between the spaces. This way you can get a pretty good idea of how much space you have and how much space you would like to preserve to provide the perfect flow of movement, what activities will take place in the space and the relationship between these activities.
For example, in an open plan living area, you might have 3 or more bubbles, one showing the kitchen, the other showing the dining area and another showing the living area. Using bubbles will help you to define these spaces. When you are clear about where the activities are going to happen in the space then you can move on to creating a scale plan.
A typical example is as illustrated above.
Draw your space to scale on the piece of paper. Include window, door, built in cupboards/shelves and lighting placements. You want to be able to see all the fixtures and features on the plan.
Make a list of everything you would like to have in the space and create scaled paper cut outs for each piece. You can then start placing these scaled pieces of furniture onto your space plan. This will start to bring your space to life and show you how you will be able to use the room. The size of existing or new furniture needs to be considered too and also the human dimensions to it. Factors that enhance communication and relaxation should top your list of priorities; you don't want people sitting in awkward positions when they are trying to make a conversation. When you're making your own drawings, don't worry if it doesn't look like an architect's plan, just make sure that your measurements are correct. Ensure that it works properly on paper first is the first step in ensuring that the room will work well in real life. However 'paper planning' can never be a substitute to actual 'ground planning' and is at best, for preliminary discussions.
A well-thought out space planning process will prove to be invaluable in enhancing the form and function of a place. There is no single step solution in space planning; it is the process of many phases and considerations. Essentially, it is the art of making space for something and also for nothing.
"The best way we like to start a space plan is by roughly drawing out a map of the space and creating a bubble plan."
We believe in the power of people sharing information about things they care about. Apart from using the social sharing icons, readers may also republish our articles online or in print without any edits to the content. You just have to credit The Minimalist Society, and link to us with the specific article URL.
Like us on Facebook to see our latest portfolio.
---
The Minimalist Society is a brand that focuses deeply on purpose and social good for our society at large. We do so by crafting experiences that makes people's lives simple through interior design. We have been featured extensively by renowned online portals, in print and on screen, such as The Straits Times, Business Insider, Lianhe Zaobao, The Business Times, Singapore Home and Decor, Lookbox Living, Houzz, Cromly, Qanvast, Vulcan Post, Yahoo and MM2 Entertainment Singapore. At Team Minimalist, simplicity is a goal, a work style, and a measuring stick. By leading a life of purpose, our home owners can embrace only on the things that will add to the mission of significance and ultimately living their best story.
---