House Tour: Ying and Robin's Fuss–Free Japanese Minimalist Home
This HDB home in Boon Lay is peppered with wooden and white accessories that complement its minimalist design.
The Japanese style of minimalism has found its way into Singaporean homes in the last couple of years. It's not surprising though—homeowners have come to love the focus on eliminating unnecessary frills in their interiors, such that the home's style evolves around clean and uncluttered living.
Software engineer Robin, 31, and graphic designer Ying, 28, and both agree that Japanese minimalism is how their dream home should look like. So they engaged The Minimalist Society to work on their 4-room HDB unit in Boon Lay, spending a total of $45,000 on renovation works.
"We watched quite a lot of Japanese shows related to renovation and house tours, and we were inspired by how they designed the house to be simplistic yet being able to utilise storage space fully. We believe that form follows function and a beautiful house should also be practical—a house where we are able to relax and be comfortable, and should also be easy to maintain," quips Robin.
Check out this couple's clean and uncluttered HDB home:
Ying explains, "We wanted a bigger living room so we hacked a bedroom adjacent to the living room to create a huge space that we can host our friends for parties and gatherings. The hacked space became the relaxation area and we have placed bean bags and bookshelves to make it even more cosy. It is one of best places to relax during the weekends." 
One of their fave furniture pieces in their home is the modular sofa from Muji. It is made out of different pieces that can be mixed and matched to form an L-shaped sofa or just a long sofa. Or it can be shifted away if more space is required. This sofa gives the couple versatility in managing their space.
"We also opted for an open kitchen which has become one of my favourite places to cook and prepare delicious meals while still being able to watch TV or communicate with my husband. It makes the house seem a lot bigger but still maintaining the cosiness," says Ying.
Like what you read? Connect with us to learn how our minimalist interior designs are changing things up for our home owners.
Another favourite item in the house is the storage bed from Muji. Ying and Robin wanted to maximise the space under the bed so these extra drawers provide additional storage for blankets, winter clothings, and more.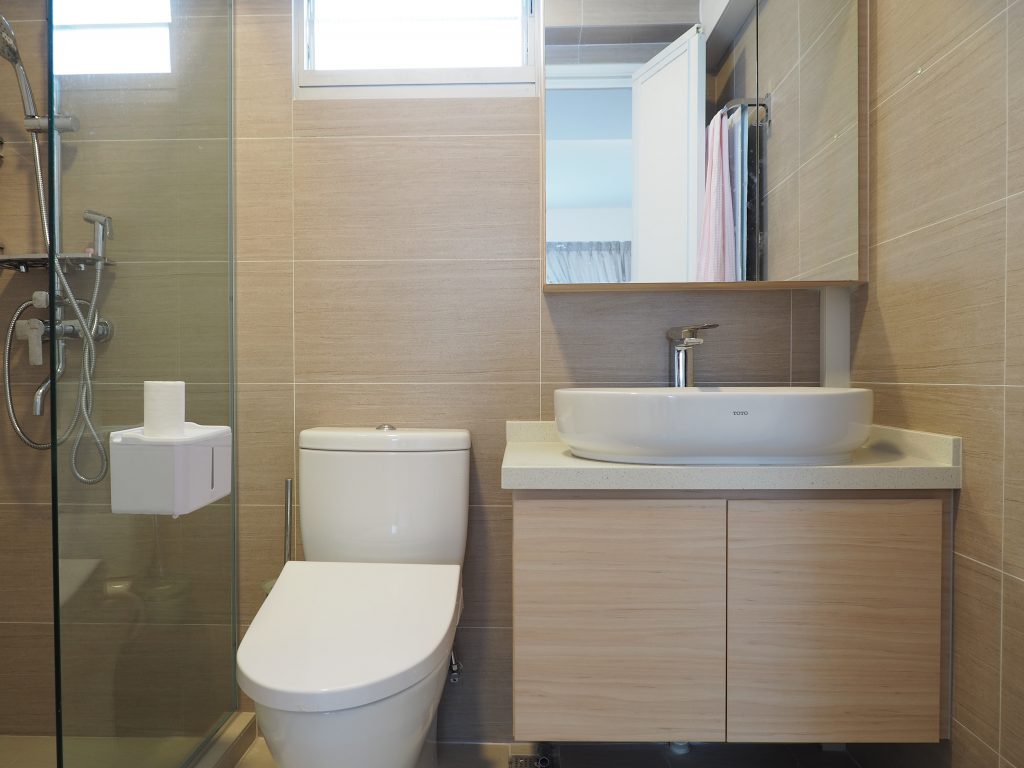 Since the couple already has a clear vision of what they wanted in their house, it became easier for them to choose an interior designer. Robin shares, "We found The Minimalist Society from a renovation blogpost that features minimalist design and upon looking at their portfolio, we realised that they are exactly what we had in mind. They provide bespoke designs based on our needs, while still maintaining the minimalist part that we are looking for."
Although hiccups are part and parcel of the renovation journey, Ying and Robin say theirs was a smooth-sailing process with very minimal bumps on the road. Their designer provided them a clear timeline so they were able to just focus on other tasks, like choosing furniture.
"It was a pleasant experience from start to finish as they also advised on the materials to use. The renovation was faster than expected so we took time to slowly choose our furniture and before we knew it, the cabinets and flooring were up and soon, we were ready to move in!" gushes Ying. "We like that they are a smaller company, and were very dedicated and involved in the project. They also assessed our house and provided bespoke designs on cabinetry, cove lighting, and others based on our needs. We were impressed by the consistency of their work and the initial 3D rendering made me excited towards the outcome. We were happy with the commitment displayed by them especially Terry who would ensure that things were done right and good." 
The only challenge they experienced was "trying to squeeze as much storage as possible in the small flat while still maintaining a minimalist look." The couple did not want to sacrifice design for function (and vice versa)—and they were so happy their ID managed to make things work according to their preferences.
Maintaining their preference for Japanese minimalism, the couple procured most of their furniture pieces from Muji, flooring and lighting solutions from Scandi Supply and the remaining items from Taobao.
So what made this house special? The couple replies, "To us, the wood and white palette as well as the scent of yuzu make us feel like we are in Japan. Others may disagree but the spaciousness of the house makes us relaxed amidst this hectic life. Achieving the Japanese minimalist modern look, coordinating the colours for a uniform look, with an abundance of storage space, and achieving all of that in without us breaking a sweat made this dream home a reality!"
Ying and Robin's tips for fellow homeowners
Decide on the theme of your house and work from there. It makes it easy to narrow down the ID and furnishings, giving you more time to source for better and cheaper stuff for the house.
Set aside a budget for everything including furniture, appliances, and of course renovation.
Choose a good designer who understands what you want for your home.
Like us on Facebook to see our latest portfolio.
---
The Minimalist Society is a brand that focuses deeply on purpose and social good for our society at large. We do so by crafting experiences that makes people's lives simple through interior design. We have been featured extensively by renowned online portals, in print and on screen, such as The Straits Times, Business Insider, Lianhe Zaobao, The Business Times, Singapore Home and Decor, Lookbox Living, Houzz, Cromly, Qanvast, Vulcan Post, Yahoo and MM2 Entertainment Singapore. At Team Minimalist, simplicity is a goal, a work style, and a measuring stick. By leading a life of purpose, our home owners can embrace only on the things that will add to the mission of significance and ultimately living their best story.
---