House Tour: Timothy and Yvonne's Spacious Minimalist Scandinavian Home
"I'm glad my husband decided on Scandinavian. We come home to a space that's simple yet very relaxing."
He wanted Scandinavian, she preferred contemporary.
Tim and Yvonne, who met at their workplace, had different takes on how they want their 95-sq.-metre resale HDB flat in Dover Crescent to look like. They, however, both wanted a clutter-free look—a space devoid of too many elements, it's almost bordering on minimalist style.
"It's always been my dream that when I would have my own place, I wanted it in Scandinavian style. I did an exchange program in Sweden for about six months and I really loved the whole feel of it, the woods and whites," says Timothy.
Yvonne, who initially wanted a modern look and feel, gave in to her husband's choice after she saw photos of homes stamped with the Scandinavian signature of simplicity, minimalism, and functionality. "They look very nice. I'm glad he decided on Scandinavian."
To create their dream home, the couple turned to Timothy's old pal Keith Ng of The Minimalist Society who worked on the overall concept and design as well as the renovation and carpentry works including the built-in furniture and storage pieces.
"They like something that's cosy, a place they can come home to after a day's work to feel relaxed and at ease. In everything we do, we make sure that the homeowners feel comfortable staying in it—not just from the way it looks but also in the overall feel of cosiness and spaciousness," says Keith.
Check out Timothy and Yvonne's simple and sleek Scandinavian home:
Living Room + Study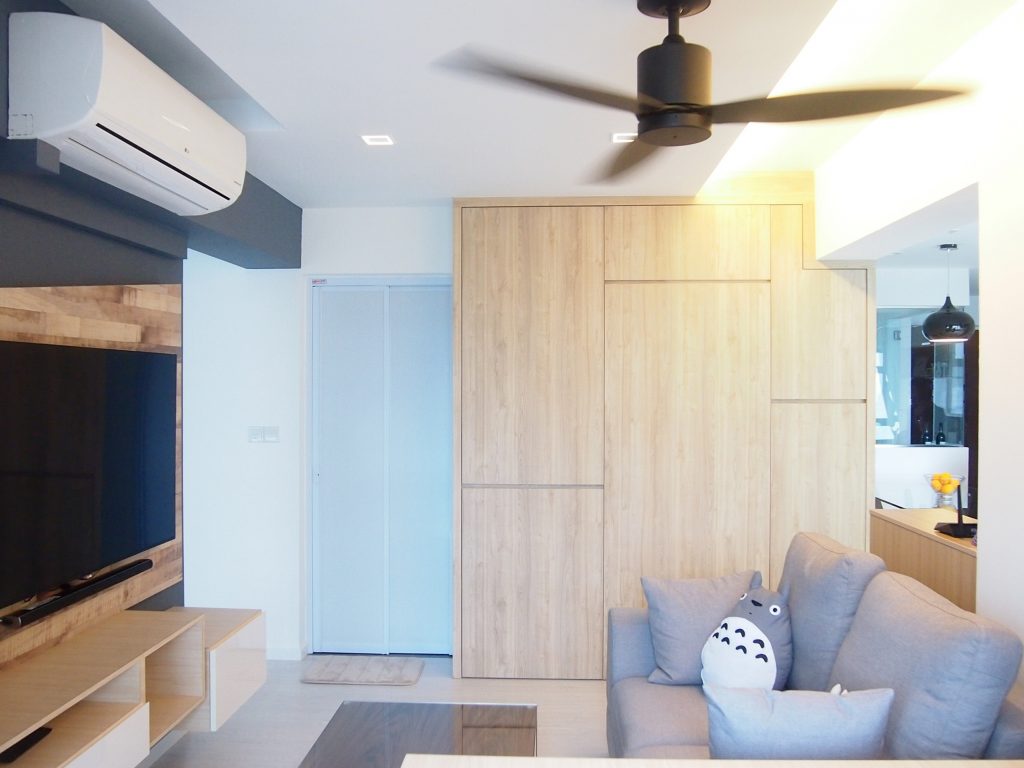 The light brown cabinet in the living room creatively conceals the home's bomb shelter—the cabinet door in the middle is the entrance to the household shelter-cum-utility room.
When Timothy and Yvonne bought the flat, the old look was "squeezy and tight" and the "space looks very constrained." So they asked Keith to convert one bedroom into the living + study area to open up the space. "I think our living room is different in such a way that most people would like to have the study separate from the other areas of the house. But my study is right beside the living area. I'm more of a computer person, my wife loves watching TV. So if we're doing our own things, we're still together," explains Timothy.
Feasting your eyes on our minimalist homes?
SUBSCRIBE TO OUR YOUTUBE CHANNEL FOR MORE. 
"We bought the sofa, coffee table, and dining set as a package. That's about it. The rest of our furniture pieces are built-in. We also don't want to buy a lot of home items moving forward because we want the whole design scheme to be clutter-free."

Dining Room and Kitchen
The first thing people notice when they enter Timothy and Yvonne's home is the dining area. They originally wanted to do Craftstone for the wall but opted for white brick wallpaper to blend with the overall design. Guests would always compliment their warm dining table, which they got from Modern Living.
The couple rarely uses the kitchen but when they do, they appreciate their spacious preparation area. "If I'm cooking, I also want to see what's happening outside so the glass panel separating the kitchen and dining is perfect," says Timothy.
Bedroom
The bathrooms also sport the same simple and clean lines seen in the other rooms of the house. "We wanted our toilets to be like those in hotels. To give the hotel feel, we installed mood lights. It's just nice to have them," the couple relates.
According to Keith, the interior space planning ensured that spaces would be effectively utilised upon move-in. "I wanted to make sure it looks much more spacious than what they deserve," he says. "It's a nice unit with a great view. It doesn't have to be complicated—you just have to have a few highlights to make the whole house different."

Renovation Details
Type of property: 4-Room Resale HDB Flat
Total space: 95 square metres
Renovation budget: $65,000
Time to complete works: 3 months
Interior designer: The Minimalist Society
Timothy and Yvonne's tips:
1. Less clutter, fewer worries. The Scandinavian style works well for both of them because they don't like having too many stuff in the house. "Even our sofa is meant for only two people," Timothy smiles. It's also easier to maintain (except for the glass features), they say.
2. Choose an interior designer who understands your wants and needs. The couple, who tied the knot in August 2015, met with about 10 interior designers but still didn't feel they meet their needs. Timothy remembered his friend Keith and met with him. "His ideas were bombastic and we felt he could deliver," he says.
Interview By Jerni Camposano
Like us on Facebook to see our latest portfolio.
---
The Minimalist Society is a brand that focuses deeply on purpose and social good for our society at large. We do so by crafting experiences that makes people's lives simple through interior design. We have been featured extensively by renowned online portals, in print and on screen, such as The Straits Times, Business Insider, Lianhe Zaobao, The Business Times, Singapore Home and Decor, Lookbox Living, Houzz, Cromly, Qanvast, Vulcan Post, Yahoo and MM2 Entertainment Singapore. At Team Minimalist, simplicity is a goal, a work style, and a measuring stick. By leading a life of purpose, our home owners can embrace only on the things that will add to the mission of significance and ultimately living their best story.
---