House Tour: Sherman and Adeline's Spacious 'Scandimuji' Home
This HDB flat in Punggol strikes the right balance between simple and stylish, fun and functional, Nordic and Japanese touches.
A calming and spacious flat that oozes with simplicity and the perfect mix of Scandinavian and Muji-inspired accents—this was Sherman and Adeline's dream for their first family home.
"We'd always wanted a simple, bright, minimalist, clutter-free home, and took inspiration mainly from Muji and Nordic interior design, as well as Apple stores!" quips Sherman, a technology consultant. He adds that this plan became all the more perfect when their daughter Claire arrived as they wanted her to grow up in a space that's comfortable for her.
Adeline, a pre-school teacher and freelance trainer, describes their home as "Scandimuji," as it mixes the simple and functional elements of Scandinavian style with the minimalist and Zen-like ambience of Japanese interior design. "We love that there are lots of natural and light colours, soft wood, and white around the house. The entire house—except toilets and service yard—is covered in vinyl flooring, which gives it a continuous feel when you walk around the place. It feels like one giant room, instead of a combination of many different rooms, which is what we wanted."
The young family of three has only been living in the flat for five months, and they are happily enjoying every moment spent in here. And because it's bright and airy and spacious, they could play hide and seek with their adorable little girl around the whole house!
Check out this stunner of an HDB flat in Punggol:
Living Room
"I enjoy the living room! I love to plonk down on the sofa after a long day's work and just relax and enjoy the comforts of the living room. Coupled with the calming Scandinavian ambience, it gives me a very homely feel. I spend a lot of time in the living room snacking while watching TV shows!" says Adeline.
The queen of the house also shares she is in love with the shade of pink in this room in their flat. Sherman and Adeline were hesitant at first as they wanted all-white walls in the living room. But upon their ID's recommendation, they said yes and were happy about how it turned out.
Sherman, on this part, loves the indented shelves between the living and dining rooms. "We wanted some shelves there for display, and Team Minimalist recommended indenting them on purpose, so it would not look so rigid. Turns out, that single design decision received the most praise from guests!"
Dining Room and Kitchen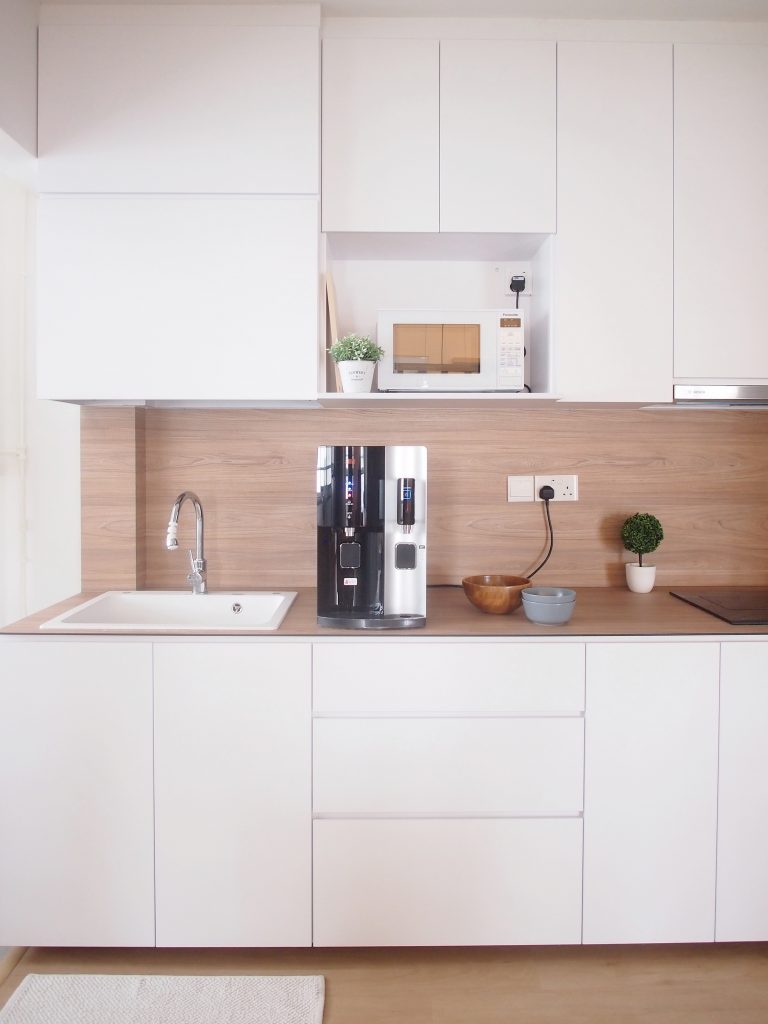 "My favourite space in our home is the dining area. We actually hacked the wall between the dining area and the kitchen in order to incorporate an open-kitchen concept, as well as maximise the space," reveals Sherman.
He furthers, "I spent a lot of time fussing over the dimensions and lighting in the dining area, as I wanted the optimal home dining experience for our guests and ourselves—ensuring that we had sufficient space for everyone to move around comfortably, while enjoying a cosy dinner was of utmost importance to me. We ourselves enjoy eating, and thus wanted the space to be conducive and spacious, with a calming ambience."
Bedroom and Bathroom
Looking for Scandinavian lighting solutions?
Elevated designs. Grounded price.
Sherman recounts they originally wanted a standalone dressing table but had to incorporate it into the wardrobe due to limitations of space in the master bedroom.
The king-sized bed from Tilamking is Adeline's favourite piece of furniture in their home. She said there are "absolutely no regrets" after purchasing this super comfy bed.
Renovation Details
Type of Property: HDB Flat
Total Space: 93 sqm
Interior Designer: The Minimalist Society
Budget: $43,000 on renovation + $27,000 on furnishings
Sherman and Adeline's tips for homeowners
Choose your ID wisely. "When we began looking around for renovation ideas and IDs, we remembered our friend's renovation, and I spoke with her to get her review of The Minimalist Society. When we reached out to them, their response was quick (unlike other IDs we had approached), and when we met them in person, they were down to earth, and impressed us with their enthusiasm and friendliness. Having previously looked at our floor plan, they came prepared with ideas and suggestions on what we could achieve in our home."
It pays to listen to the expert. "We initially did not want a false ceiling, as we did not think it necessary. However, as the renovation progressed, we began to worry if the centre area of our house would be too dim at night, even with all the lights on. When we brought this up with Team Minimalist, they were able to quickly scope out both the design and cost of adding a false ceiling to the centre area of our house. As it turns out, the cove lights in the false ceiling are the most frequently used every day!"
Try shopping online first. "We usually do our shopping online first, and if we like what we see, then we will head down to the showroom or store. We bought furniture from Muji, IKEA, Castlery, Danish Design, Tilamking, Amazon, and Lazada."
Interview By Stephanie Yee
Like us on Facebook to see our latest portfolio.
---
The Minimalist Society is a brand that focuses deeply on purpose and social good for our society at large. We do so by crafting experiences that makes people's lives simple through interior design. We have been featured extensively by renowned online portals, in print and on screen, such as The Straits Times, Business Insider, Lianhe Zaobao, The Business Times, Singapore Home and Decor, Lookbox Living, Houzz, Cromly, Qanvast, Vulcan Post, Yahoo and MM2 Entertainment Singapore. At Team Minimalist, simplicity is a goal, a work style, and a measuring stick. By leading a life of purpose, our home owners can embrace only on the things that will add to the mission of significance and ultimately living their best story.
---