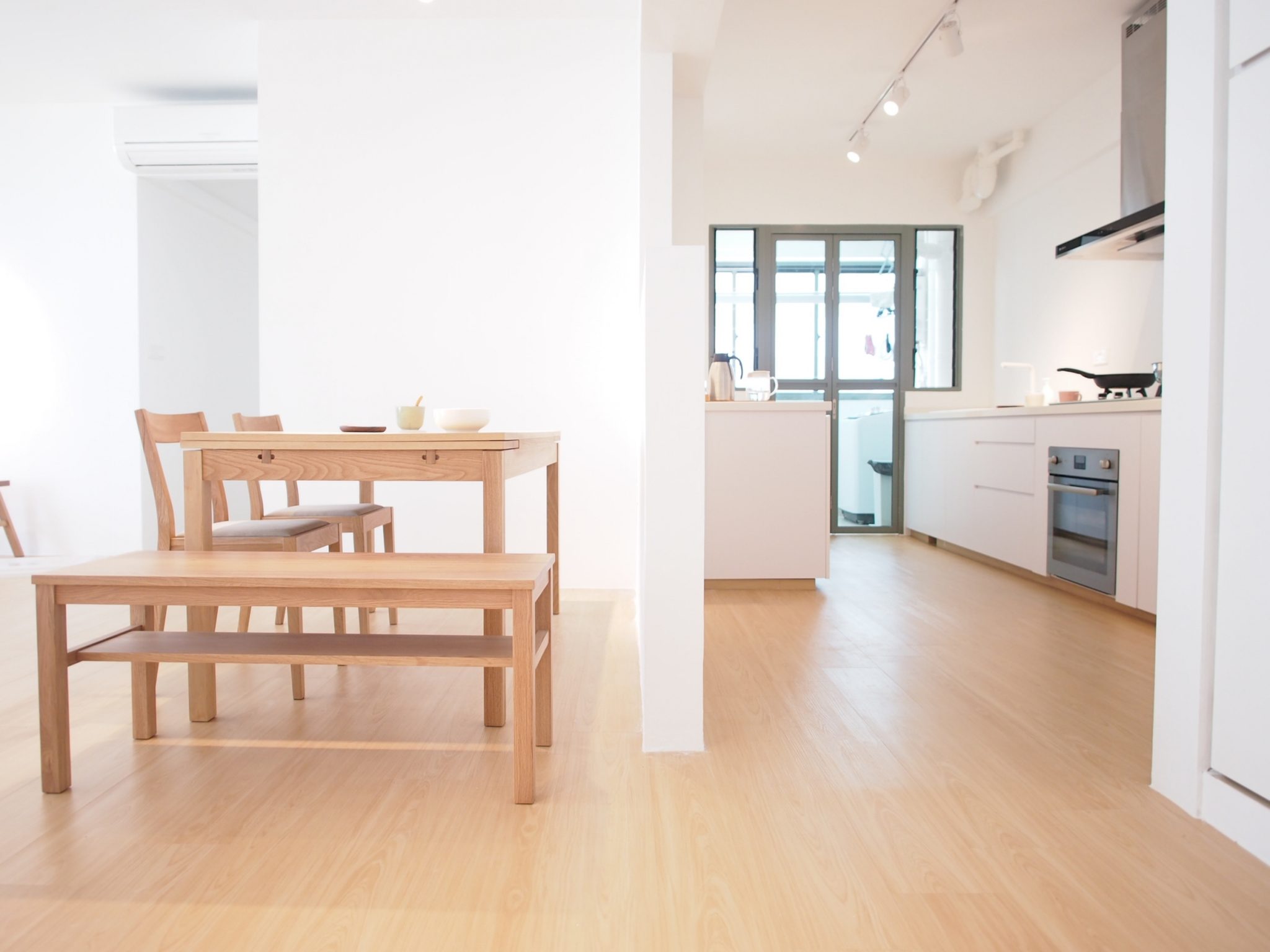 House Tour: Loon and Mel's Minimalist and Muji-Filled Home
This 5-room HDB flat in Punggol shines in its simplicity.
"We believe that less is more," says Loon, an educator who lives in a 5-room HDB flat with his wife, Mel. He, of course, is referring to their minimalist Scandinavian home. 
"The house is mainly done in white and wood. We used white track lights for almost the whole house. Floor tiles were overlaid with light wood vinyl flooring. Very uncluttered." Furniture pieces and accessories from Muji, which adhere to simple and minimalist aesthetics, complete the look.
To get the minimalist style down pat, the couple sought the help of the interior design team of The Minimalist Society. "Muji homes are about simplicity and quality. We took the natural world as our role model in the selection of materials. We threw in relevant possibilities that built upon their initial ideas," says Keith of Team Minimalist. "Together, we employed our minimalist signature style with the clean detailing that we are known for."
This collaboration results in a home that is relaxed and stunning, calm and bright. Natural light entering through their curtain-less windows gives more life to their light wood furnishings and white cabinetry and walls. One area easily flows to another as no hefty furniture and clutter stand in the way.
It's an exercise in restraint—curating what to display around the flat, leaving out what is unnecessary, showing only what is important to the couple—and this gives the home a more intimate feel and more breathing space.
Check out the main areas of their flat here:
Living Room
True to the flat's minimalist style, the living room is devoid of many knick-knacks and furnishings that usually crowd this area. Loon and Mel did away with sofas and instead placed bean bags from Muji "to lie on while watching TV, a place to nap in the afternoon," says Loon. Mini planters from Japan called Mogu Mogu and a Muji cuckoo clock are some of the accessories that adorn this space.
Workroom
"Our workroom is cosy with natural light coming in. It's conducive to do work on the table. The shelf displays our favourite things," says Loon.
Bedroom
Looking to create the minimalist home of your dreams? Get design inspirations and tips from us by joining our email list.
The couple's bedroom is a peaceful-looking retreat with white furnishings complementing the light wood floor and Muji's dresser and stool. "It's a place where [they can] recharge and rejuvenate their mind. We went for comfortable and clean-lined designs and minimised clutter," says Keith. 
Kitchen
A white galley kitchen with minimal floating shelves makes the area more open. "It's uncluttered. The whole place is very white, including the sink and tap," says Loon.
According to Team Minimalist, the flat was a good collaborative effort and "the only initial challenge was how to give the kitchen a clean look given the existing setup. We brainstormed on several alternatives. We finally decided to do cement screeding for the wall tiles and overlay the existing HDB floors with vinyl flooring. We did a thorough planning for the kitchen carpentry," says Team Minimalist.
Dining Area
The simplicity of the dining area takes us back to the fundamentals of Scandinavian design: clean and simple lines, gallery-white walls, and demonstrating functionality.
Renovation Details
Type of property: HDB 5-Room Flat
Total space: 110 sqm
Interior designer: The Minimalist Society
Budget: $40,000
Time to complete works: Two months
Loon and Mel's tips for homeowners:
Know what you want. "You must have a very clear concept on the house that you want.

Colour scheme

 and

lighting

are very important in bringing out what you want for the house. Try and look for inspiration on the Internet and save [the photos]."
Look for a reliable interior designer. "It's important to find an ID who can understand you, accommodate your needs, and click with you. For us, we're happy that our ID is meticulous, responsible, took initiatives, and gave good ideas pertaining to our theme which helped a lot."
Monitor the renovation. "Eventually make sure that the renovation progress goes well and rectify minor things when there are any."
Interview By Samantha Echavez 
Like us on Facebook to see our latest portfolio.
---
The Minimalist Society is a brand that focuses deeply on purpose and social good for our society at large. We do so by crafting experiences that makes people's lives simple through interior design. We have been featured extensively by renowned online portals, in print and on screen, such as The Straits Times, Business Insider, Lianhe Zaobao, The Business Times, Singapore Home and Decor, Lookbox Living, Houzz, Cromly, Qanvast, Vulcan Post, Yahoo and MM2 Entertainment Singapore. At Team Minimalist, simplicity is a goal, a work style, and a measuring stick. By leading a life of purpose, our home owners can embrace only on the things that will add to the mission of significance and ultimately living their best story.
---