20 SPACE-SAVING IDEAS FOR THE MODERN MINIMALIST
Regardless of how much square feet your home has, in this age of conspicuous consumption, we often find ourselves needing more storage space than ever. The solution to this is to seek first to declutter your belongings, devise a good layout, and lastly coming up with innovative storage solutions. The good news is there are many creative ways to create extra space out of thin air. Whether you are living in a private or HDB flat in Singapore, these ideas will help to maximize the available space in any type of modern dwelling.
Taking inspiration from our signature minimalist interior design style, which preaches about being able to live a purposeful life with just the essentials and storing them in storage spaces, here are some of our well-thought storage solutions from The Minimalist Society to help our home owners to declutter their belongings and organize them in every room of their homes. Less clutter results in less stress and bringing more calmness and clarity to you.
1. Introduce wall storage spaces into your living area if there's limited floor space for your storage needs. To maximize the limited space in your living area, you could create a full-height cabinet with open shelvings which help to break up the monotony of a row of cupboard doors and allow you to display your knick-knacks. The trick is to extend vertical storage all the way to the ceiling. Carving usable storage solutions right out from the wall's structure adds an interest sight to the living spaces. A well-designed suspended cabinet will work as well.
2. Having a customized bay window seat is every minimalist dream! Besides serving as a cozy seating area for you to sip on your afternoon tea while enjoying your favorite read, it also helps to serve as a storage space to keep clutter out of sight.
3. For additional storage space, invest in a thoughtfully designed console unit which will also double up as a unique display area. Commonly used items can be easily squirreled away but reachable within easy access.
4. Using dividers to create more intimate spaces near the foyer is always a good idea. It can also be used to demarcate different living area and may double up as storage spaces for shoes.
5. Having appliances such as the sound bar or television specially built into the custom designed carpentry is a great space saving idea, leaving more space for other decorative accessories. 
7. Get creative with space-saving custom carpentry that can be tuck away easily when not in use.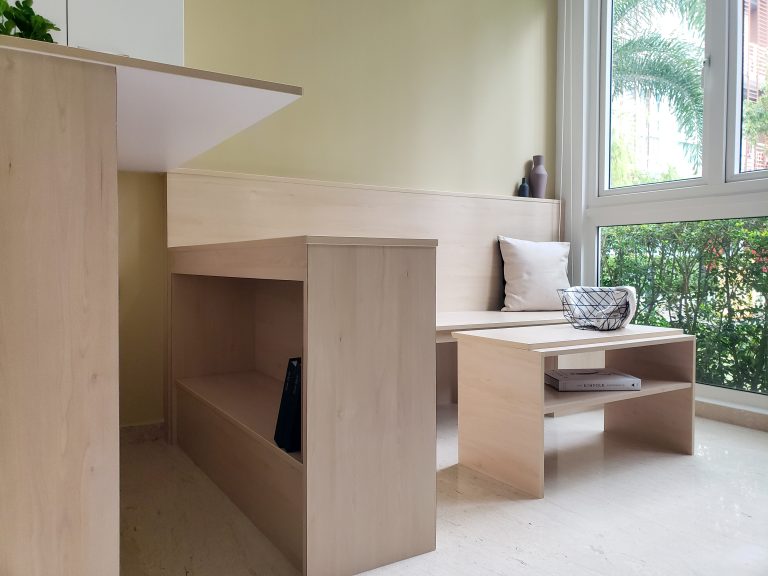 8. The kitchen is one of the areas which requires the most storage in the whole house. A minimalist kitchen is simple yet functional. To keep everything neat and tidy, you can maximize your kitchen space with the introduction of shelvings and pull-out drawers. They serve as an excellent addition to a minimalist kitchen to keep your pots and pans out of sight.
10. Create a legitimate dining area with a built-in a bench with display and storage capability. Besides providing additional seating, it is also able to keep household items out of sight to paint an uncluttered look around your dining area.
11. Overhanging shelving help to de-clutter the kitchen worktop and an excellent dedicated space to display your cool collection of wine.
12. Apart from providing extra kitchen work surface, a kitchen island can be rife with storage from within! Having shelves at the sides of the kitchen island also enables the commonly used items to be within reach or serve as a simple display area.
13. If you are short on storage space in your kitchen still, consider having a tall unit which comes in handy to tuck away the kitchen appliances and other items. A built-in oven can also be incorporated for the home owners' needs as well.
Get minimalist home inspo and renovation tips from us. Be in the know with our latest happenings.
14. Bedrooms should be an oasis of calm. To ensure your bedroom is clutter free, under-bed storage spaces are your best friend! The storage spaces under your bed can store all the clothes that you may not need at the moment while keeping them within reaching distance. A bedside table is also an added bonus to tuck away smaller items out of sight while having only essential items such as your glasses or a glass of water on it.
15. Wall mounted cabinets or shelves are an excellent storage solution when there is limited space in your bedroom. Mounting them against an empty wall gives you more space to work with and display all your favorite reads. Own your work space like a boss!
16. If you've run out of places to store all your kids' toys, perhaps having a raised platform could do the trick. Say goodbye to the days of trying to sweep them under the rug when you can sweep them into the platform. Depending on the height of your ceiling, consider adding a raised platform of an appropriate height and you'll also be able to stash all kinds of things within it: suitcases, winter coats, or extra pillows. Without visions of clutter dancing in your head, you can allow your mind to relax before bed.
17. Plan for a customized full height wardrobe to eke out more space. (and hopefully not just so that you can maximize the amount of your clothings!) Sliding doors instead of swing doors for the wardrobe would be especially encouraged for tight areas.
18. Opting for functional built-ins like these bunker beds allows us to open up valuable floor space for creating larger play areas. The under-the-stairs storage also serve as a bonus to tuck away all the books and toys that can otherwise be a visual clutter. Children love to collect things and over time, their collections can get out of control. Having such built-in storage can teach them how to be tidy and make things work for them.
19. When rooms are relatively small, we can turn to vertical rather than horizontal storage solutions. The full height headboard can function both as a key decorative feature of your bedroom and giving spacious storage too without taking away from the roominess of the interior!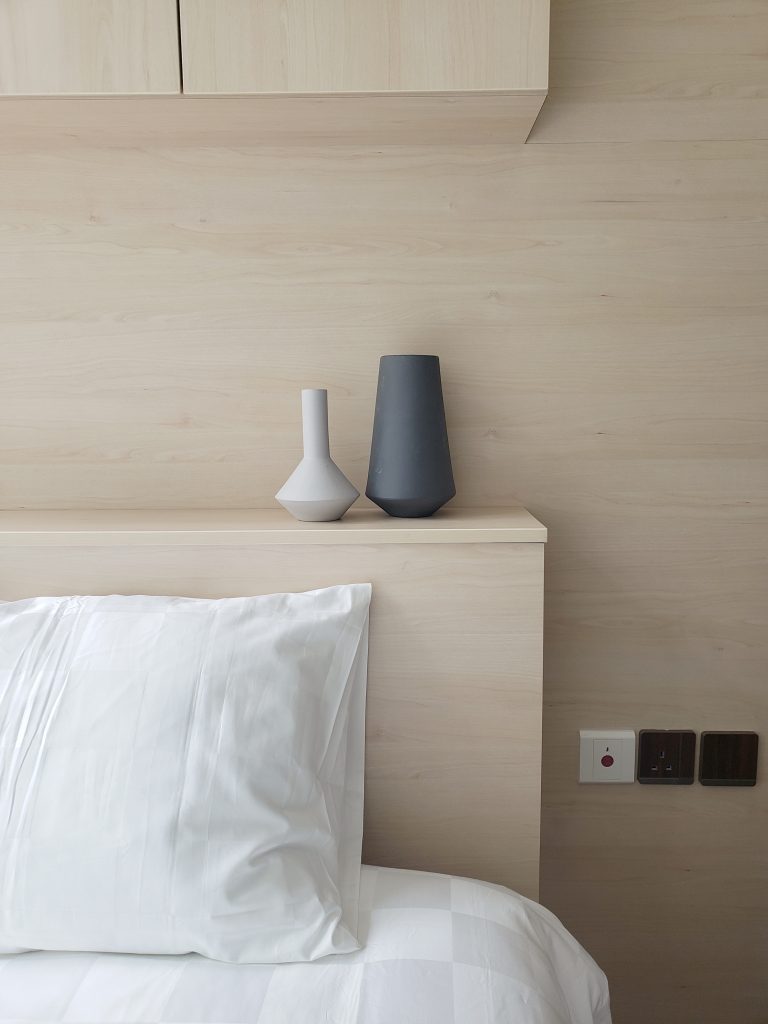 Loving our storage solutions?
LEARN HOW WE COULD DO THE SAME FOR YOUR HOME.
With all these tips to help you maximize the storage spaces in your home, there'll no longer be a day whereby you struggle to keep clutter out of your home. Just bear in mind that these storage solutions are executed based on the premise that there will be a comfortable walking space which must be tackled during the space planning process. Remember to never solve one problem by creating another one. At the end of the day, creating living spaces is really about how you redefine them and seeing the unseen.
Like us on Facebook to see our latest portfolio.
---
The Minimalist Society is a brand that focuses deeply on purpose and social good for our society at large. We do so by crafting experiences that makes people's lives simple through interior design. We have been featured extensively by renowned online portals, in print and on screen, such as The Straits Times, Business Insider, Lianhe Zaobao, The Business Times, Singapore Home and Decor, Lookbox Living, Houzz, Cromly, Qanvast, Vulcan Post, Yahoo and MM2 Entertainment Singapore. At Team Minimalist, simplicity is a goal, a work style, and a measuring stick. By leading a life of purpose, our home owners can embrace only on the things that will add to the mission of significance and ultimately living their best story.
---